For many homeowners, summer brings a new appreciation for their outdoor spaces. If you're a Texas homeowner with a pool, your family and friends will likely spend countless hours in the pool or poolside this summer. In anticipation, you may be here searching for new ideas and ways to refresh your pool landscaping. At Marlin Landscape, we have helped countless clients in North Texas bring their pool landscaping to life. Based on our experience we have some great North Texas pool landscaping ideas that could help you this summer.
3 Ideas for Pool Landscaping in North Texas
1. Screening Trees
Our first idea for North Texas homeowners is to include screening trees in your pool landscaping. Screening trees that either line the back of a fence or pool provide an extra layer of privacy. Here are our recommendations:
Choose Ornamental Trees
Since you will plant these trees near the pool, we recommend choosing ornamental trees that will not cause any root issues to the pool shell.
Avoid Flowering Trees
We recommend staying away from flowering trees such as Crape Myrtles. These trees will drop leaves or flowers into your pool and cause more pool cleaning.
Consider Patio Form Hollies and Claudia Wannamaker Magnolias
The two most popular trees we recommend are Patio Form Hollies (the two best varieties in our opinion are the Savannahs and the Eaglestons) and Claudia Wannamaker Magnolias.
2. Potted Color
Do you want more color around the pool this summer? Potted color is a great way to add pops of color to your pool landscaping. This approach also allows you to be in control of the amount of color in your space and the design around your pool. You or your landscape designer can arrange the plants in the pots to be consistent or different. When implemented properly, this simple idea even manages to impress our team of experts. That's why potted color makes the list as our second pool landscaping idea.
For a summer vibe you could add bright blooms such as Hibiscus, Lantana or Dianthus with trailing greenery. Here are what these blooms look like: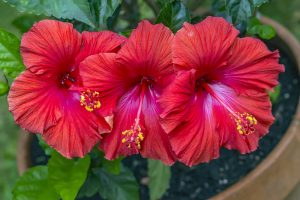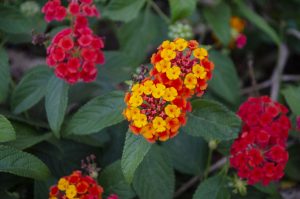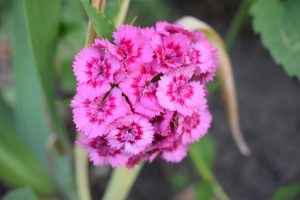 Depending on your landscape style you may also consider other colorful blooms. Below, are a few of our recommendations for full sun and shade:
Colorful Blooms
Full Sun
Verbena
Pentas
Zinnias
Vinca/Periwinkl
Dianthus
Scaevola
Shade
If you need custom recommendations for your pool landscaping, contact our landscape designers. We can make recommendations based on the type of pool you have (chlorine or saltwater) and what's important to you.
3. Ornamental Grasses
The third and final of our North Texas pool landscaping ideas, is to include ornamental grasses in your pool landscaping. Ornamental grasses add a rich texture and softness to your landscape. They're perfect for adding texture and depth to the area surrounding your pool. Our favorite grasses include:
Mexican Feather Grass
Maiden grass
Adagio Grass
Gulf Muhly Grass
Rush Grass
Below are pictures from one of our landscaping projects, the Bobcat. Our team used Rush Grass to line the pool area. This grass in combination with other landscape and hardscape elements created a depth to the space.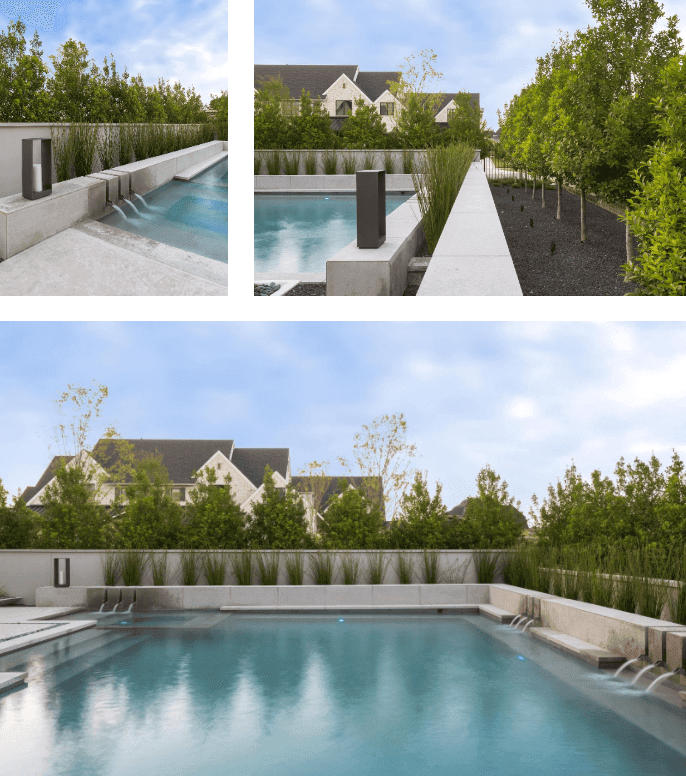 Considerations for Chlorine and Saltwater Pools
As you plan your pool landscaping it is important to consider the type of pool that you have and which plants are best acclimated to the environment surrounding your pool. Not all plants do well when exposed to chlorine pools and the same applies to saltwater pools. When you work with an experienced landscaping company, you can rest assured that they will make recommendations based on several factors including your pool type. If you do not already have a landscape company assisting you and want help with your pool landscaping, you can contact our landscaping company in Dallas by calling (214) 935-3960 At Marlin Landscape we take pride in our ability to offer custom and creative solutions to meet our client's needs.